Tracklisting:
1. Melancholic Thoughts
2. Euthanasia
3. Absence
4. Final Departure
5. Epitaph of Penitence
6. Wistful Twilight
7. Paragon of Perdition
8. Mist of Misery
9. Serenity in Nothingness
Mist of Misery was originally described to me as a 'black metal soundtrack to the Lord of the Rings movies'. This evoked some concern on my part, as this rather specific niche has already been capably filled by Austria's Summoning [1], whose extensive back catalogue displays an almost obsessive regard for all things Tolkien. Thankfully, these misgivings were somewhat muted upon actually listening to Absence, the Swedish duo's second full-length. While there are definite similarities – such as a preference for introspective instrumental passages over full-throated assaults, or the deep attention to the crafting of cinematic atmosphere – the blatant sampling of Peter Jackson's films and the Middle Earth-based content that typify Summoning's output are nowhere to be seen.
Instead, what Mist of Misery turn to for lyrical inspiration is a theme well-explored within the darker realms of music – depression, anxiety and melancholy. This thematic content has other writers labelling their music as an amalgamation of the genres of symphonic and depressive suicidal black metal – but Mist of Misery channel the likes of In the Nightside Eclipse-era Emperor far more than anything by, say, Psychonaut 4 or Shining on this record.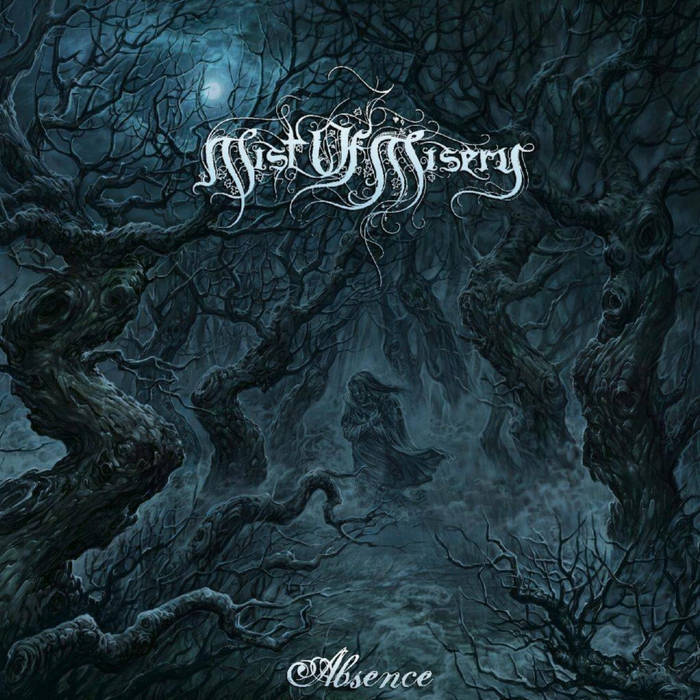 The production values are sky-high, the music itself displays a dynamic balance between harsh 'metal' tropes – the low-end brutality (there is no other term quite as suitable, despite its overuse) on 'Paragon of Perdition' particularly showcases this aspect – and sensitive synth arrangements. The short, but nevertheless gorgeous stab of strings on 'Mist of Misery' illustrates this quality very well indeed without over-analysing the ambient introductions to songs. These dynamics are further reinforced in the back-and-forth pace shifts of 'Epitaph of Penitence', which blends downtempo riffing, standalone lead lines, searingly raw vocals and soothing, gentle instrumental passages – making this track my personal favourite and one to use in introducing others to this band in the future.
The album itself is divided by short instrumental tracks – 'Melancholic Thoughts', 'Final Departure' (which breaks the mould by relying on a guitar-driven melody rather than on keys as primary instrumentation as far as these interludes are concerned), 'Wistful Twilight' and the closer, 'Serenity in Nothingness'. Without these, Absence barely qualifies as an album, belonging more in EP territory with only five 'full band' tracks. Even these are constructed according to the same blueprint – ambient introduction, followed by crushing song. In this way, Absence feels unfinished: it translates as a collection of snippets that, while undeniably brilliant in isolation (the pauses for breath on 'Euthanasia', especially when the choral voices kick in, or the harpsichord introduction to 'Absence' for example) haven't been put together as a holistic entity. This makes a single-sitting listen to the album a challenging experience, but one-off songs in a playlist shine.
So despite the inclusion of too many short instrumentals, Mist of Misery have crafted a very respectable album in Absence: one that marries the anhedonic atmosphere of Xasthur with the symphonic arrangements of Dimmu Borgir – a style that makes a lot of sense within black metal, but Mist of Misery are definitely pioneers.
FOOTNOTES
1. A compilation tribute to Summoning – In Mordor Where the Shadows Lie – was released on 15 December 2016 and can be bought here.