Tracklisting:
1. Uránia
2. Sirály
3. 10˄(-20) Ångström
4. Ixión Düün
5. Osszel otthon
6. Malmok járnak

7. Vonatút az éjszakában
8. Mezolit
9. Fehérsvasárnap
It's a strange day indeed when the avant-garde metal of today sounds like the darkwave of the turn of the century… but that's exactly the reaction I keep having to Meta, the latest release from Hungary's duo-turned-one-man project Thy Catafalque. A heavy reliance on synth pads for atmospheres with electronic stabs shining through work together to make the listener forget that this is actually a fairly extreme metal record, grounded in black metal [1] but having evolved into this chimeraic electro-industrial sound. The most obvious example of this is in the epic 'Malmok járnak'. Clocking in at a hair over 21 minutes long, this track introduces female vocals as well, reinforcing the easily-drawn similarity between this band and the likes of Blutengel or L'âme Immortelle (the same can be said, but to a lesser degree, for 'Sirály', despite the vocal performance exhibiting far more obvious classical training than the bands mentioned above usually evidence), while the use of electronic bagpipe sounds calls to mind acts like Heimataerde. This flirtation with electronica is in no way negative, though – while not what I expected, it is tastefully done and nothing new for Thy Catafalque. [2]
That said, there are a lot of other comparisons that can be drawn without leaving the metal arena: Negură Bunget's usage of multiple vocal lines in a single arrangement, as well as slowly built-up ambience and natural field recordings are similar in nature to the sound Thy Catafalque deliver, although the former inject emphasise sweeping atmosphere in their compositions whilst the latter focus on dense, layered texture. Another highlight, 'Osszel otthon' (and its delightful soft rainfall atmosphere) puts me firmly in mind of the Austrian outfit Dominion III – although Thy Catafalque's guitar work is far more accomplished.
The other standout point for me on Meta is the integration of folk melodies into the compositions: while cellos, oboes, organs and ambient samples [3] all make appearances, these melodies are often delivered on tremolo-picked guitars, a route not often followed by the standard folk and atmospheric metal roster. This throwback to the band's black metal beginnings is not only a pleasant change from the norm but it keeps Thy Catafalque grounded in extreme, rather than progressive territory.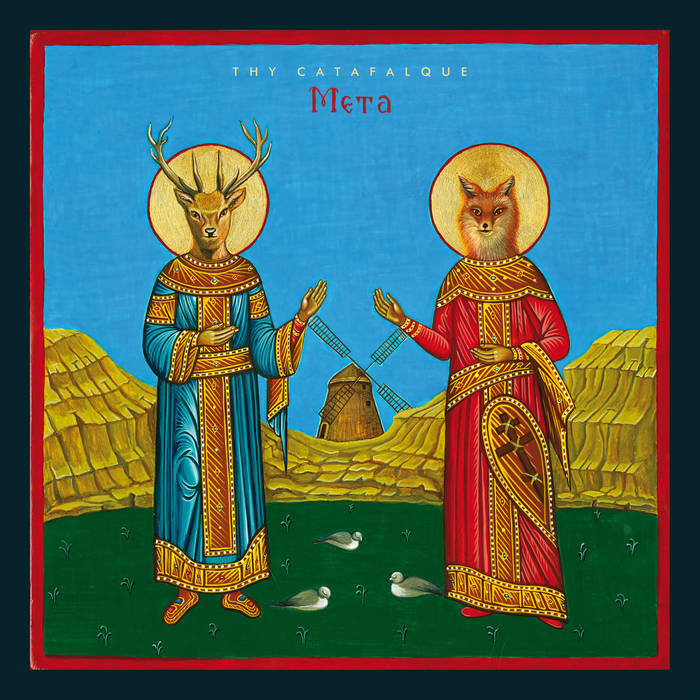 In a twist of fate, the atmospheric elements of Meta carry the most immediacy; repeat listening reveals deeper sonic strata to be explored. For example, when things get heavy (and they do get heavy – see '10˄(-20) Ångström' or 'Mezolit' for prime examples) there's a delightful balance between crunchy riffs and squealing pinch harmonics. The latter – 'Mezolit' – has been elevated to my regular playlist. Half-tempo bridges, growling doom vocals, some of the tightest drum work on the album – all offset with clean passages a la Solefald or Arcturus makes this song an absolute gem. 'Ixión Düün' reaffirms the band's extreme metal roots with the blackest song on the album. Make no mistake, though – despite its tenebrous overtones, the song is pure Thy Catafalque in its dynamic shifts in pace, mood and instrumentation. This track also features long-time collaborator Balázs Tóth on lead guitars.
Thy Catafalque is not some sing-along, horns-of-ale folk band, but Meta definitely exhibits some common ground in its accessibility and neo-traditional folk inspiration. It's also not black metal, even though it draws on the genre's history for its extreme metal grounding. So it seems 'avant-garde' really is the best classification for this project, although it can happily nest alongside anything progressive, folk or black in nature.
Footnotes:
1. Thy Catafalque started its journey as a black metal duo with their 1999 release, Sublunary Tragedies, but the musical direction has evolved in a far more experimental direction following their internal split.
2. Prior albums have been described across the discography as anything ranging from 'ethereal' (2015's Sgúrr), 'electro-pop' (2011's Rengeteg) to 'industrial' (2001's Microcosmos) based on their electronic content.
3. A number of guest artists assist multi-instrumentalist mastermind Tamás Kátai on Meta – including Attila Bakos, Gyula Vasvari, Orsolya Fogarasi and Lambert Lédeczy on vocals, Judit Csere on cello, Luci Holland on oboe and returning collaborator Ágnes Tóth for a soprano performance.