Tracklisting:
1. The Cypher Supreme
2. Earthwork
3. Illuminance
4. Ad Rigorem
5. Tentacles of the Sun
6. Elemental Shift
7. I: A New Journey Awaits
8. II: A Final Warming Shine: Ascension and Trespassing
A trend amongst tech-death is one of virtuosity over emotive content, resulting in an unfortunate sterility that can turn off some listeners. Atmosphere is an essential element of most extreme metal undertakings, be it the bleakness of DSBM, the unforgiving misanthropy of deathcore or even the B-horror aesthetic of many traditional death metal acts – and this is, sadly, often lacking within the tech-death camp. Virvum and their debut album, Illuminance, may well be responsible for changing this outlook – if only where their own musical trajectory is concerned. While founding member and lead guitarist / songwriter Nic Gruhn undoubtedly displays regular passages of technical proficiency that make me want to give up my own hack attempts at playing guitars, he never falls into the trap of quantity over quality. The death metal groundwork is firmly laid in a strong rhythmic foundation that is then capped off by intelligent and tasteful leads that don't overshadow the emotional aspect of the songwriting. On top of this, he offsets these moments of shimmering guitar mastery (see the gorgeous runs in the title track, for example) with equally impressive contemplative moments where Virvum veer into hugely progressive territory. Add in melodic (as opposed to crushing) riffs so chock-full of hooks that you end up with tech death you can hum along to… and it's this combination of elements that makes Illuminance a highly listenable record rather than just one to show off with. [1]
While there is plenty going on that is pure tech-death (in the vein of Rivers of Nihil and Beyond Creation particularly) on Illuminance, there's far more than that to be taken into account. There are also the obvious old-school influences [2] – Necrophagist and Death spring most readily to mind – but so much of what Virvum have crafted relies on other genres for inspiration. 'Elemental Shift' and 'Ad Rigorem', for example, draw quite heavily on melodeath in their composition: two-part harmony leads stand out from thrashy riffs in the former, while the semi-staccato building verse hook in the latter required confirmation that I wasn't listening to a Kalmah record. The net result is that 'Ad Rigorem' is easily the least intellectually demanding track on the record.
By way of validation of this statement: a tenuous balance exists between the frenetic and the ethereal, as heavy guitars and blastbeats vie for dominance with careful, sensitive string arrangements that coalesce and sublimate in the final third of most tracks in a transcendent display of musical prowess. This approach could easily make Illuminance a difficult, even demanding listen, but the skilful arrangement of every track results in an album that can be a carefully considered, profound listening experience just as easily as a motivating backing track to everyday activity. 'Earthwork', for instance, starts out unsettlingly, but the discordance settles into an exercise in controlled chaos, before an entirely incongruous outro – that nevertheless sets the stage perfectly for the nine-minute opus of shifting patterns and pace that is 'Illuminance'.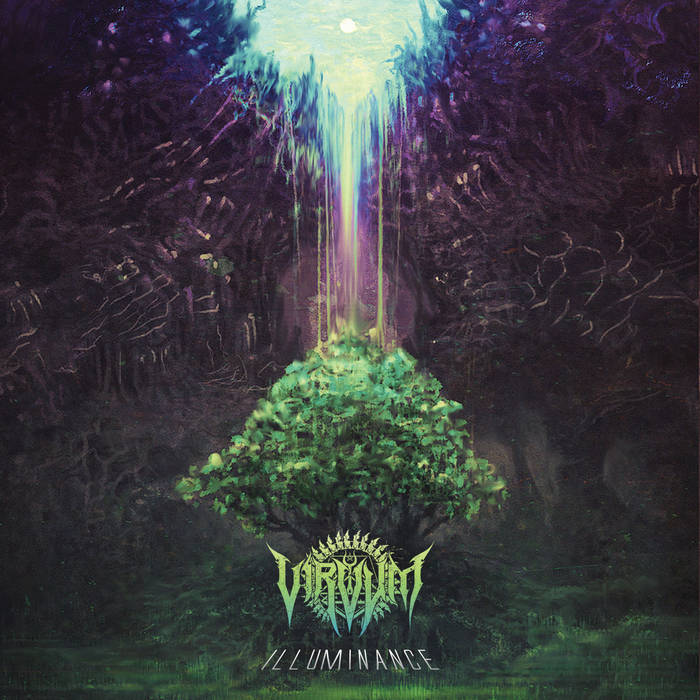 While everything on the record is eye-openingly good, and the technical proficiency [3] of all the musicians is undeniable, the last two tracks are where Virvum shine: 'I: A New Journey Awaits' is an almost cinematic soundtrack, balancing grandiose, powerful strings with fast tremolo picking, before introducing the big finish. 'II: A Final Warming Shine: Ascension and Trespassing' is possibly one of the most diverse, yet relevant metal compositions I have encountered. It is the heaviest, most punishing track on the album while at the same time possessing some of the softest, most introspective moments. The spoken female vocal is a healing balm after some excellent usage of dissonance, and the most dominant low-end work on Illuminance.
Considering that Illuminance is a debut album, Virvum have set a new benchmark in versatility and proficiency: despite minimal recording experience this young act has put together a record to be extremely proud of. There is nothing I can find fault with: impeccable production, clever groove-laden compositions, memorable hooks, incredible musicianship… the list goes on. I could have appreciated a bit more bass in the mix, but that's just personal taste and in no way a reflection on the band or the record itself. I honestly don't know which affective reaction shapes my experience with Virvum the most: awe at their prowess in writing emotional, listenable metal, or envy that I don't possess similar talents.
FOOTNOTES
The Black Dahlia Murder's Trevor Strnad agrees with this sentiment on his regular MetalInjection editorial round up.
The band's name itself comes from a song by 90s death metal outfit Deeds of Flesh.
An in-studio video shows these musicians hard at work, instrument by instrument.